This Thursday saw the unveiling of the most eagerly awaited smartphone from Samsung. Its real now, Samsung Galaxy SIII has finally arrived. Galaxy SIII, the new super-smartphone from Samsung was officially launched in an event at Earls Court Auditorium in London.
Good news for the Indian audience is that Samsung Galaxy SIII will soon be available in India too and most likely from the month of June itself. It would be initially available in the European markets from 29th May 2012. Galaxy SIII has also been made the official phone of the coming London Olympics 2012.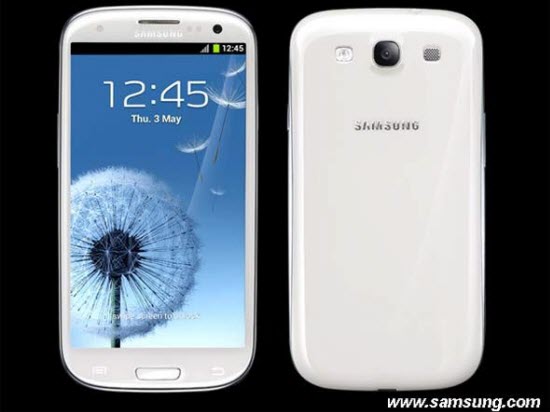 The latest smartphone from Samsung (now a leader in smartphone category), Galaxy SIII is the successor of the widely selling Galaxy SII. Galaxy SIII has many new and upgraded features to its credit which make it one of the most innovative and intelligent smartphone. Samsung Galaxy SIII has been built on the powerful Android™ 4.0, Ice Cream Sandwich OS.
The phone uses TouchWiz Nature UX as the default user interface and has a 4.8 inch HD AMOLED display to give a better viewing experience. With an Exynos quad-core 1.4 GHz processor and 1GB RAM you can expect a great performance from the new Galaxy SIII. As far as unique and first-timer features, you get to see SmartStay and S Voice in Galaxy SIII. SmartStay tracks eye movements of the users while with S Voice you can give voice commands to your Galaxy SIII.
Some of the other features of Samsung Galaxy SIII include:
RAM: 1GB
Storage: 16/32/64GB (model dependent) and an expandable MicroSD card
Cloud storage: 50GB Dropbox for a period of 2 years
Camera: 8MP rear; 1.9 MP front
Battery: 2,100mAh (with wireless charging kit option)
Resolution: 720 x 1280 px (306ppi)
Colour: Pebble blue, marble white
Dimensions: 136.6 x 70.6 x 8.55 mm
Weight: 133g
So you have to just wait for a few more weeks before Samsung Galaxy SIII would be available in India too. Galaxy SIII is expected to rocket the sales of Samsung Smartphones in India yet again much like its predecessor the Galaxy SII.