After getting a tremendous response the world over, Google recently introduced the Google Play Books service in the Indian market, as well. The eBook store from Google presents an enormous collection of nearly 4 million eBook titles to the users. The eBook store is available on the web version as well as mobile version of Google Play.
In fact, Google is not the only player to have launched an eBook store in India. Amazon (with Kindle Store) and Flipkart (the Indian e-commerce giant) have already started eBook store in the Indian market.
Android or iOS users need to install the Play Books App to use the Google Play Books service on their device. The App enables users to download, manage and read the eBooks available in the Google Play eBook store. If you prefer to read the eBooks on third party ebook reader apps, you can do this as well by transferring them through Adobe Digital Editions Desktop Reader. You can preview some of the books on your Smartphone or computer before purchasing them.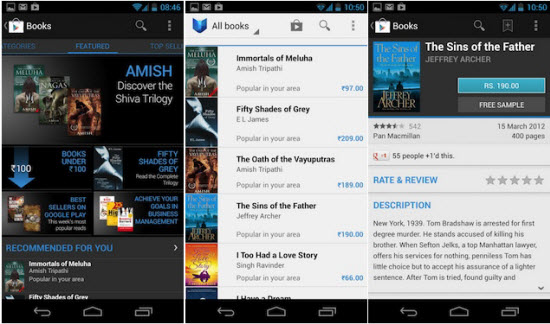 The Google Play Books Service stores the books onto the cloud so you have to use the Internet Connectivity to download, read, or manage the eBooks. The Play Book App even remembers the last page from where you left reading the eBook. Thus, you don't have to start all again from the very beginning of the eBook.
Google Play Books delivers truly great and fantastic reading experience. It lets you search within the eBook and allows you to change the layout and font style. You can even highlight the text, select words for finding their definition, translate as well as add margin notes. You can read the eBooks that you have selected even when you are not connected to the Internet. It comes with the synchronization feature, so you do not require any dedicated device for e-reading. Find your favorite books and simply add them to 'My Books' to synchronize. It also gives you access to millions of free eBooks instantly.
Google has taken care of the Indian audience by customization the store to include books from popular Indian authors. The Google Play Book store features titles from well known Indian authors like Khushwant Singh, Devdutt Patnaik, Amish Tripathi, etc.
On the whole, you can definitely look forward to a great eBook reading experience through Google Play Books service.