Zen mobiles, it is a brand Telecare Group is serving our Indian market with smartphones from last 3 to 4 years. This time it is here in our Indian market with a budgeted tablet Zen Ultratab A100. This tablet only cost Rs. 6199/-, making its place under the budgeted tablet.
Zen Ultratab A100 has all the features of a tablet. It is sleek (10.5mm thin) and black matte finish with is smooth to touch. Being a tablet it has a screen of 7 inches which is multi touch and capacitive TFT resolution of 800*480 pixels. Tab is of only 295gms in weight and dimensions of 181.5*121**10.5. It has only front facing camera of 1.3 mega pixels with no rear camera.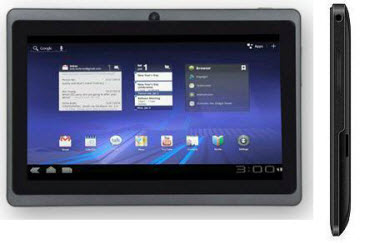 Zen Ultratab A100 runs on Android 4.0 (Ice Cream Sandwich) as an operating system. Zen Ultratab A100 has a processor of 1.2 GHz and a RAM of 512MB DDR3. It has in built memory of 4 GB which is expandable upto 32 GB using a MicroSD card. Many other but imperative features are power jack, USB port, head phone jack and mono speakers.
The total screen colors of this tablet are 16.7M. An important feature is that it supports almost all the formats of music, videos, photos and E-book like MP2, MP3, WMA, MJPG, H263, H264, PNG, JPG, JPEG and PDF, TXT, HTML respectively. Ultratab A100 has a battery life if 2800mAh/3.7V and type of Lithium-ion polymer battery.
Zen Ultratab A100 connectivity, to get access from other computers you can easily use its micro USB port. It has no Bluetooth option but is Wi-Fi enabled with Wireless LAN and can easily be connected to Dongle for internet usage as a plugin. This tab cannot be connected to a TV or any other external display.
In overall Zen Ultratab A100 is a budget tablet but it lacks many features as other tablet of this range comprises. It has no rear camera, no Bluetooth, no SIM card can be inserted (no calling and messaging), angles of display can be improved and a slow performance. If you need a tablet of this range you can have a look to other tabs of this range with improved features.
Zen Ultratab A100 Features
Operating System: Android 4.0 (Ice Cream Sandwich)
Display: 7-inch (800*480)
Processor: 1.2 GHz
RAM: 512 MB
Camera: 1.3 Mega Pixels front facing camera
Expandable Memory: upto 32 GB
Zen Ultratab A100 Price in India: Rs 6199/-