ICICI one of the top and famous banking sector and insurance providers has introduced a new form of making people aware about the insurance schemes and finance related future planning. The company has created videos to show the benefits of the saving plans and insurance plans.
People always want to save their money for the future so that in hard times it may help them but how to earn from those investments and enjoy the benefits in the future is unknown to many. For those people who don't know about the various insurances and money saving plans ICICI prudential life has created some videos regarding the same so that the common person who isn't aware of these financial products and about their profits can get the general idea for investing his money for the future.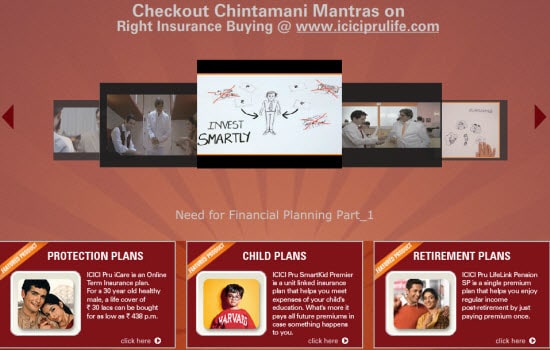 There are videos regarding future financial planning, different types of insurances and their plans provided by ICICI. Benefits of insurances, why to go for Term Insurance plan and other schemes are explained nicely and quite elaborately so that it becomes easy for the common men to understand the concept. The videos also contain the experts' advice on which product you should invest the money and what is actually the need of investing your money.
You can watch all ICICI Pru Live financial videos on YouTube channel http://www.youtube.com/iciciprudentiallife
We have collected those videos and listed them below so that you can become aware about these financial products and schemes.