The Android market is full of free Apps in the music and audio category. Now you can get an Indian taste in the percussion App segment on the Android. Developer Rodrigo Kolb has introduced a fantastic percussion Android App named as "Tabla". Drummers, percussionists and music lovers will find the Tabla App pretty interesting and upto their liking. Tabla – The free Percussion Android App; has already found millions of users worldwide and you would also love to play this wonderful instrument app. With Tabla you can really enjoy and have a fabulous new experience altogether.
Tabla is a free finger percussion instrument app for Android users. With Tabla you can be sure to enjoy and have the most fun experience in finger drumming on Android. It is a free to use app and can be installed on Android 2.1 and above. It works perfectly well with all screen resolutions and is suitable for mobiles and tablets as well. It would be better if you have a big mobile screen only to enhance your Tabla playing experience.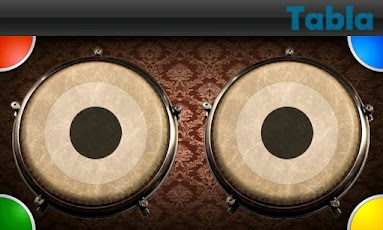 The Tabla set in the App is designed on the lines of the Indian Table and have drum pads which generates Indian, Arabian and Latin percussion sounds. The Tabla is Multi touch percussion Android App and is capable of producing 10 different and realistic tabla sounds. You get high quality studio audio sound. It also has the feature of vibrating tabla drums when you touch them. You get various sounds on pressing different areas of the Tabla. If used together with earphones it produces great sound effects too. It also features other instruments like gong, chimes and gungru. So Tabla is really a cool, simple and awesome Android App.
Tabla has been one of the most played and loved instruments in the Indian Musical Traditions. Now with the introduction of Tabla App you can also be the one to enjoy its great sound and love the feeling of playing the fabulous Tabla percussion instrument with your own fingers. You need not be an expert player of Tabla to use Tabla App as it is really easy and simple in use. You only need an Android mobile or Tablet to get started with it. So install Tabla – The Free Percussion Android App; and enjoy this great App.