From past few years Sony PSP faced high competition from the advanced touch screen gaming phones to beat this competition Sony introduces its new touch screen gaming device named PS vita. Sony PlayStation Vita have all those features which any high end mobile phones could have like GPS, Wi-Fi, 3G etc and with the added advantage of PSP gaming platform.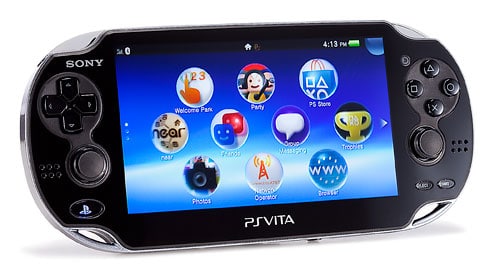 Sony with its PS Vita again wants to capture the lost Sony's share in portable Gaming. PS Vita is a Sony's replacement of PSP. As Sony PS3 rules the market of portable TV gaming consoles now Sony also wants to dominate the portable gaming market with its new PS Vita Portable gaming device. There is feature in the game Called cross-play which allows you to play the games between your handheld and PS3 so if you are playing game in PS3 you can save it and continue it in PS Vita. Sony PlayStation Vita is not just capable of playing games you can even enjoy music, videos and surf the web on it. PS Vita supports multiple formats such as Mp3, Mp4, Wave, H.264, Jpeg, TIFF, BMP, GIF and PNG.
Sony PlayStation Vita layout is same as PSP layout with some advanced improvement in display, processing power, network connectivity, Front and back facing camera, GPS and multi touch screen so you can easily pinch zoom the pictures or the web. You can even use your PS Vita as a controller to your PS3 console.
Sony PlayStation Vita Specifications:
Screen: 5-inch OLED touch screen
Display Resolution: 960*544 pixel
Processor: 32-bit Quad-core ARM Cortex-A9 MPCore
Weight: 260 g
Memory: Expandable upto 32GB
Price: Rs.19,990 (only Wi-Fi), Rs.24,990(Wi-Fi + 3G)
Sony PlayStation Vita is equipped with quad-core processor you u can feel the power of gaming this device is built for hardcore gaming but PS Vita's could disappoints you when it comes to battery it only deliver the 4-hour continues gameplay and device doesn't even charge from USB but device delivers you great graphics and sound experience so Sony PS Vita is a Ultimate portable gaming device for great fun of gaming.