All of those who have ever wanted to buy a colour laser printer, there is great news for you all. Samsung Electronics has recently introduced a new printer named as Samsung CLP-315, "an affordable colour laser printer" for the Indian buyers. It is being promoted as the "world's smallest colour printer" and definitely an affordable one too. It is currently priced at MRP Rs. 12999.00 only for the Indian market. Looking at its overall features, price and other claims made by Samsung Electronics, this colour laser printer is all set to take its place in homes and offices as well.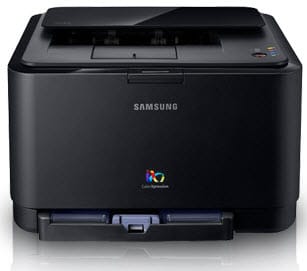 This elegantly designed colour laser printer Samsung CLP-315 is available in black colour body and is one of the most silent printers when working. It produces noise levels of less than 45 dBA during colour printing and less than 47 dBA during mono printing. Its weight is only 11 kg and has a highly compact structural volume which makes it greatly suitable for small professional workplaces. With overall dimension of 388 x 313 x 243 mm, it will surely fit on a desk and as well as on a shared workplace. Samsung claims that CLP-315 colour laser printer has a more consistent printout and gives strong water fastness which can definitely make it a winner in this particular segment.
As far as technical specifications and capabilities are concerned, Samsung CLP-315 outputs superior performance. It is capable of giving an output of 16 ppm during mono printing and upto 4 ppm during colour printing. It gives an excellent resolution output of upto 2400 x 600 dpi. It has been provided with a 150-sheet input tray and 100-sheet output tray. Samsung CLP-315 has got a USB interface and is compatible with both Mac and Windows operating systems. It has a 360 MHz Processor and memory storage of 32 MB.
As such Samsung CLP-315 is a feature-rich, technically superior, compact and above all the most affordable colour laser printer available in the market. With its output of high quality colour printouts, it should readily gain its share among the office as well as home colour laser printer buyers. All these facts and figures surely make Samsung CLP-315, "an affordable colour laser printer".