Star Plus controversial reality show Sach Ka Saamna is coming back with season 2. Soon this program will be telecast and registrations are started to participate in this show.
Sach Ka Saamna is Indian version of American game show – "The moment of Truth". Sach Ka Saamna Season 1 was telcat on Star Plush and season 2 will be telecast on Star One. Rajeev Khandelwal is hosting this show again.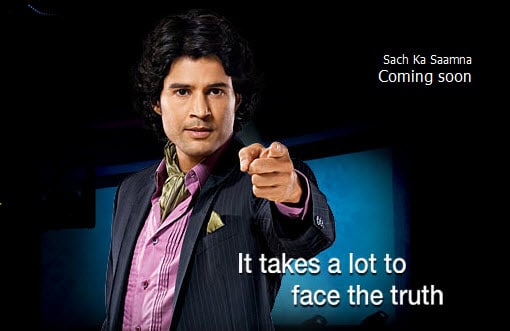 Sach Ka Saamna is based on people's habit of not speaking truth. Many time people don't speak truth because of circumstances or to achieve something. This show brings peoples truth in front of their family. Sometimes these truths are not acceptable by their family and this can be very dangers situation.
There will be 21 questions that are asked to a contestant. Answers given by the contestant will be judged to be true or false by the polygraph machine. After every right answers contestant move to next question and if there is any wrong answer the game over there.
Participation is open for this show and anyone can register in this program. Here are the steps how you can participate in this show. You can contact the show by three different ways.
1. You can register yourself by filling participation form and they will contact you. Form Link – http://www.starone.in/sachkasaamna_participate.aspx?sid=116
2. You can send SMS to participate SMS – SKS Name Age Gender and send it to 57827
3. The third way is to send email with you detail and reason why you want to participate to sks@startv.com
If you have something to say about this program please give your opinion by comment form below.