Renault after the great success of SUV Duster in India has now launched his Renault SCALA C-Segment Sedan. Renault Scala is launched on 7th September 2012 in the Indian market. The Renault SCALA has been launched in both petrol and Diesel variants same Renault Duster SUV.
Renault Scala is same as Nissan Sunny. Both Renault and Nissan work in collaboration with each other so they have just launched a car to increase the volume of the cars they have launched. SCALA has some improved features. SCALA ranges from Rs. 6.99 Lakhs to 9.57 Lakhs.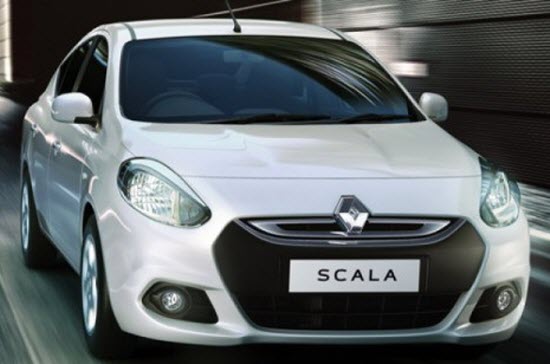 Renault SCALA sedan has an engine of 1498cc (XH2) for its petrol variant with the maximum power of 97.6bhp@6000RPM and maximum torque of 134Nmn@4000RPM. SCALA diesel engine is of 1461cc (K9K) with the maximum power of 84.8 bhp and maximum torque of 200 Nm. 5 speed manual transmission in both petrol and diesel variant.
To differentiate it from Nissan SUNNY there are few changes made in exterior and interior both. The grill and bumper are changed to give a new styling and a premium look and headlights to differ it from Nissan SUNNY. The ORVM's are electrically handled also the alloy wheels are of same color of the body enhances the overall look of the Renault SCALA sedan. Its height is 1505mm, width is 1695, and length is 4425mm and ground clearance of 165mm. Renault SCALA is overall an eye-catching car.
Renault SCALA is a complete mix of comfort and style in its interior. High quality fabric, air conditioner with climate control, AC has its vent in the rear also making comfortable for the back passengers. SCALA has a matchless security covering almost everything which should be in a car for safety ranging from Anti locking brake system to air bags and electronic brake force distribution.
The Renault SCALA is available in 4 variants. Out of which two are petrol and two are diesel there prices are as follows:
RXE petrol (Delhi Ex-showroom): Rs 6, 99,000
RXL Petrol (Delhi Ex-showroom): Rs 7, 85,643
RXL Diesel (Delhi Ex-showroom): Rs 8, 69,000
RXZ Diesel (Delhi Ex-showroom): Rs 9, 57,000.