Reliance one of the top mobile company in India has introduced its own 3G tablet to divert the attention of customers from buying those high priced tablets like iPad or Samsung galaxy for more than Rs.30000. Reliance communications launched the cheapest Reliance 3G tablet at only price of Rs12,999. Reliance always comes with surprises for its customers.
The tablet is manufactured by Chinese manufacturer ZTE. It has 7 inch TFT-LCD WVGA capacitive touch screen, and runs Android 2.3 (Gingerbread) which is good but not the best. For resolution of tablets Android 3.0 is the best. The tablet also comes with exclusive bundled Reliance 3G data plans.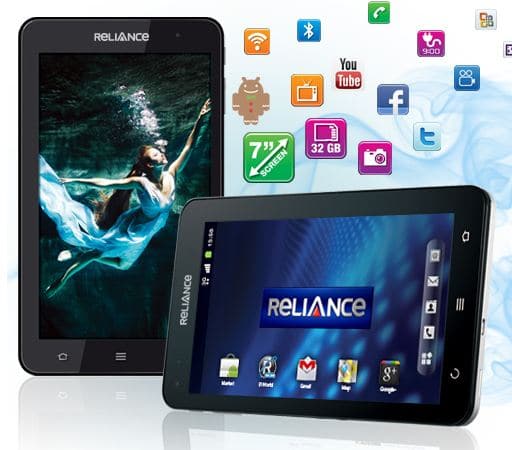 Internal Specs: Reliance comes with Qualcomm 800 MHz processor with 512 MB RAM feasible enough for playing games & applications to run. But in case it performs multitasking then the device may become sluggish. So if you are planning to run applications like that of MapmyIndia for mobiles and on background you have 3G running with Emails, Twitter, Facebook , Skype etc., then you may not find it smooth and fast. It also has 32 GB of expandable memory via SD cards (comes with a free 4 GB card).Reliance Tablet also have GPS and comes with Google maps helping you to find the locations all around. You can watch online TV with reliance 3G.
Reliance 3G tab comes with a rear camera of 2.0 megapixels and a front VGA camera. You may face problems like picture clarity during video chats.
The battery life of 3400mAH is fine and it sustains for 6-7 hours under normal use and has 300 hours of standby time period.
There is one restriction that the device comes with the Reliance 3G networks and you can't choose any other operator. The tab comes with two Reliance Super Value combo offer and also monthly 3G value plans.
Super Value Combo Offers:
Data usage per month 1GB/ 2GB/ 5GB
Discounted Advance Rental for Data for 1 year (Rs) 4500/ 5500/ 7000
Combo Price for Tab + Data Plan (Rs) 17499/ 18499/ 19999
Monthly Value Plans
Data Usage per month 2GB/ 5GB
Price for Data per month (Rs) 598/ 798
The Reliance 3G Tab is priced at Rs. 12,999 and available in Mumbai, Delhi and Kolkata. It will be available in Reliance World, Reliance Mobile stores and select outlets across the 13 3G circles soon.