With its new Launch of 'Tablet S' and 'Tablet P' Sony entered into the tablet war Sony is a late comer but one of the big player with good brand name and history. Yes Sony tablet catch the attention of Indian consumer with its unique design and interesting extra features like the Universal Remote and the PlayStation app.
Sony has launched two tablets in market named Sony Tablet S and Sony Tablet P both tablets are powered with NVIDIA Tegra 2 Dual Core 1.0 GHz Processer with 1 GB RAM which makes sense with Honeycomb Android version and also makes good combination for speed optimization.
Sony Tablet S is like many other tablets in this segment with big screen of 9.4-inch, 1GHz processor, 1GB RAM, runs on Android 3.2 etc but Sony has also focused on looks, display and features like universal remote.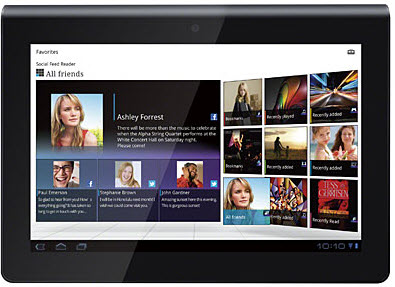 Sony also did so many modification to UI to make it more User friendly 'Tablet S' and 'Tablet P' browser works pretty well no fault with the page rendering quality, and the speeds at which that was done.
Sony Tablet S Unique Features:
Sony Tablet S is first PlayStation certified tablet which allows you to play your favorite PlayStation games like Crash Bandicoot and Pinball Heroes on the move.
Social: Social feed reader keeps you in touch with you close ones. Social allows for at- a-glance viewing of pre-selected social media updates.(Not all social media services supported by the application)
TruBlack display Technology controls the refraction of light between the LCD and the screen; Sony's TruBlack panel will blow you away with more vibrant colors and truly amazing image quality.
Sony Tablet S Tech Specifications:
Display: 9.4-inch TFT LCD
Front Camera: 0.3 MP
Rear Camera: 5.0 MP
Weight: 598 g
Operating System: Android 3.2.1 (Honeycomb)
Processor: 1 GHz Dual Core
Internal Storage: 16 GB
Expandable memory upto: 64 GB
MRP: Rs. 29,990

Sony Tablet P is an innovation in tablet market with dual screen. This tablet features two screens and designed so that it can meet tablet and Smartphone audience so basically falls somewhere in between Tablet and Smartphones this could easily fits into your Jacket pocket. Sony Tablet P screen is capable of doubling-up as both a controller for games or as a laptop-style keyboard.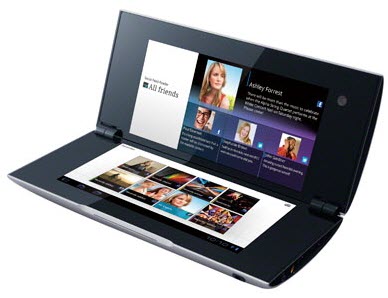 Sony Tablet P is an innovative design but is difficult to say it is tablet or phone, for me it's not so great concept when you can do lot more things on single big screen. The only benefit of dual screen can be to use second screen as keypad or as controllers for your game. Rest of the hardware features are about the same as Tablet S.
Sony Tablet P Unique Features:
Ultlal ight and compact design to fit perfectly in your hand.
Dual screen for maximum mobility
Swift and smooth touch experience with "Quick View" and "Quick Touch"
Pre-installed with games for PlayStation Certified devices
Sony Tablet S Tech Specifications:
Supports: 2G, 3G and 4G Networks
Display: TFT LCD
Front Camera: 0.3 MP
Rear Camera: 5.0 MP
Weight: 372 g
Operating System: Android 3.2.1 (Honeycomb)
Processor: NVIDIA Tegra 2 Dual Core 1.0 GHz Processer
Internal Storage: 16 GB
Expandable memory upto: 64 GB
MRP: Rs. 36,990