Getting new internet connection always becomes a tricky task. You always get confuse if there are number of option for internet connection. But to find the best service provider with cheap prices often becomes difficult to find. Tikona a secured Wireless Broadband Service provider fulfills both mentioned conditions.
Tikona Digital Networks (TDN) founded in mid 2008 is a rapidly growing internet provider across different zones of India. Company provides wide range of plans across different parts of country and is swiftly increasing the network in remote areas also.
Today the need of internet connection is now the must have accessibility on your PC or computer. Everything is now connected to the internet world, many of the tasks and works now get completed automatically while sitting at home. You can do internet banking, online purchasing, paying bills, social connectivity to your worldwide friends and on the top can get the latest of news.
So the need of Internet connection is increasing day by day. But in India there is also a strange fact that the number of internet providers is less and the demand is more. Apart from metropolitan or other major cities, there are only limited service providers in other places. You have to stick with one provider only even if you are not satisfied with the service.
To provide you with more options and better network Tikona has come up with its exciting schemes and offers. Tikona is powered with OFDM and MIMO 4G technologies to give you best of wireless networks.
The company also offers bill free plans. For example you can enjoy 30GB data which can be consumed in 30 months at Rs. 3000 only. Or you can opt for other billing plans with a starting price of Rs. 49 per month. There are plans for home, offices and enterprises. There are also other semiannual or annual plans.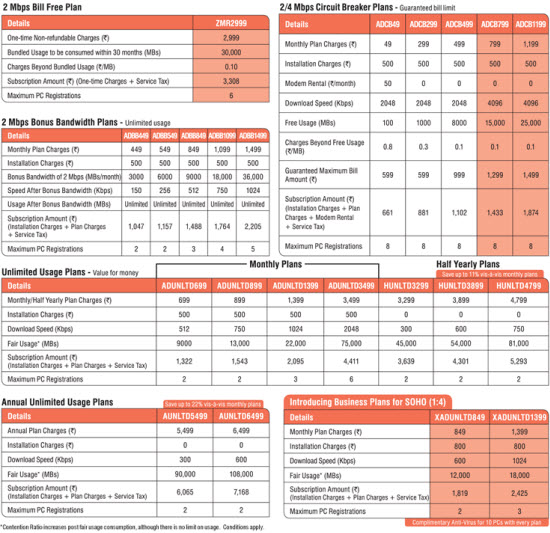 The features of the Tikona Plan are:
Speed up to 4MBPS
On- Call Tech Support
Bill Limit Guarantee
Complimentary Anti- Virus
The network of the Tikona is increasing rapidly and has reached to major cities of states like Gujarat, Uttar Pradesh, Karnataka, Tamil Nadu, Delhi, Andhra Pradesh, Madhya Pradesh, West Bengal, and Maharashtra and is stretching the legs in rest of the places also.
For any further queries you can contact their toll free helpline number 1-800-20-94276
To know the availability of their network at your locality click here 
For any further information go to the website www.tikona.in